Taking a swim with manatees is described as an amazingly profound, unforgettable, and a once-in-a-lifetime experience. We are super excited to announce that we are bringing this wonderful educational experience to the homeschool world! AND we are more than ecstatic to get back on the road and head to a state that we believe will stay open. So our next Homeschool Enrichment Adventure Road Trip (HEART trip) ♥ is to Crystal River, FL! The dates for our trip are February 27 – March 2nd, 2022.
What Is a HEART Trip?
If you're not familiar with our HEART trips, they are simply educational road trips. We think of them as extended educational field trips for the whole family. It's hard to believe that we started these road trips five years ago, and this will be our seventh trip. We're enjoying meeting and traveling with so many homeschooling families, including several families who've joined us on every one of our trips so far! We love accompanying you on these educational family road trips, getting to know you, and sharing in some exciting educational experiences together.
We know from our own experience (and research backs it up) that our children learn better and enjoy learning more when they dive in (pun intended) and engage all of their senses. There's no better way to include all of the learning styles than by travel! Do you have an auditory learner? We'll have opportunities to do tours in which we'll hear all kinds of interesting and exciting information about history and science. Do you have a kinesthetic learner? We will have opportunities to get up close and personal with manatees, take nature walks, examine ruins, and even create some art! Visual learner? We'll see all kinds of creatures native to Florida (and some that aren't), visit Native American ruins, watch an amazing sunset from water during our adventures at Crystal River. Of course the best way to teach is to incorporate all of these learning styles, which will be easy to do just by participating in the activities we have lined up!
We always have these fun educational activities, but we know hanging out and getting to know (or visit with old friends) is another important aspect for our families. So we always build in some time for families to get to know each other, play games, talk, and make connections with other like-minded families. Our kids (contrary to popular belief) typically spend plenty of time socializing, but we parents are the ones who don't often have time to create true friendships. On these trips, we make time for educational activities and do plenty of learning, but we also make time for building life-long friendships with other homeschooling families–moms and dads included!
Note: It is not required that both parents to attend these trips.
Excursions
All fees associated with these excursions are included in your package. When you arrive, we will have a kit for you with all information, addresses, name badges, etc.
Why Travel with Us?
Relax. We take care of all the details! All you have to do is arrive on site! Everything from hotels, to meals, to excursions have already been handled, right down to the gratuities! Vacations are meant as an escape from the daily grind, right? So let us coordinate it all and take care of the details.
Have Fun. With less time spent on planning itineraries, meals, accommodations, and activities, you have more time to have fun and really dig into the educational element beforehand! You can relax, unwind, explore, and discover!
Make Friends. Traveling with other homeschoolers is a great way to have fun and make friends! We homeschooling families understand each other, have similar goals, and love sharing our educational experiences and good times together! For many of our families, this is the best part of traveling with us – there's always someone to do things with, laugh with, share stories with, and make memories with. Need someone to take your picture in front of a monument? We are there for you! On our very first trip we had over 100 homeschoolers travel with us to Fort Caswell, NC, and over 150 homeschoolers traveled with us to Space Camp. When we traveled to do the cave crawls in Kentucky, we had over 200 with us… our trips are growing! We have been blessed with great children of all ages on our previous trips! Thus far, all of them have felt like they met a dear friend (or several friends!) that they want to keep in touch with! Building life-long friendships is something we all want for our children. And since most of the time they are from other parts of the country, they often become pen pals too.
Enjoy Smaller Crowds. We purposefully travel off-season so we can visit venues when they are quieter and less congested. Traveling off-season also allows us to take advantage of discounts that we pass along to you and your family. That being said, I don't think Florida has an off season 🙂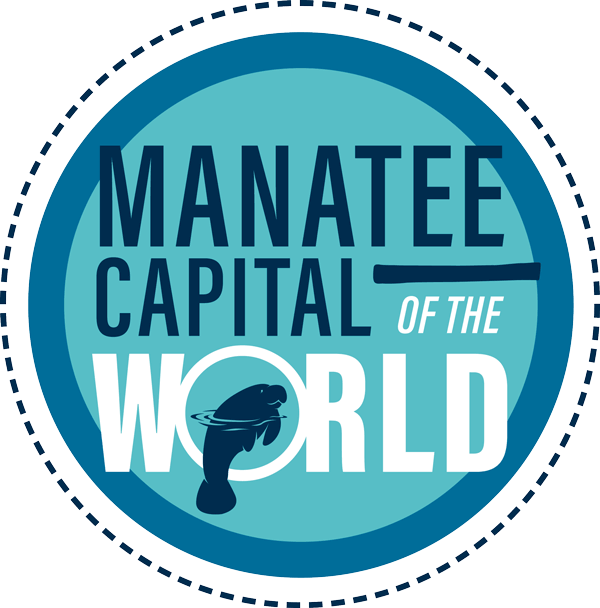 When: February 27 – March 2, 2022
Where: Crystal River, FL
Reservations Close and all Balances Due: January 31st, 2022
Educational Focus
This HEART trip will have a heavy emphasis on the study of zoology. Creatures that will be a part of our experience include:
West Indian Manatee
Alligators
Black Bear
Deer
Panther
Bobcat
Red Wolves (critically endangered)
River Otters
Bald Eagles
American White Pelicans
Yellow-Crowned Night Herons
Gulls
Storks
Fresh and Saltwater Fish
Turtles
and many more that call this area of Florida home! The natural aquifer ecosystem and the springs are so important to this area to both the people and the animals. We will study why and how. History will also be prominent as we learn more about how the Native American population who once lived in this area.
Swim With Manatees at Crystal River, Florida Details
Since the manatees roam free in their natural habitat, these eco-tours are considered "wild" excursions. Manatees are graceful gentle giants and are listed as critically endangered around the world. They have no aggressive or territorial behavior since they are herbivores without natural predators. When you combine that with their extremely low metabolism, you have a giant aquatic animal that behaves like a sloth in water or a curious koala bear. Famous explorer and scientist Jacques Cousteau called them the "forgotten mermaids" when his Calypso team began filming manatees in the late 1980s. They have captured our hearts and imaginations since!
Manatee are also known  as "sea cows" which is a perfect name due to their leathery and wrinkled skin and size. They can be quite large, tipping the scales between 1,000 to 3,400 pounds!! These beautiful creatures are super gentle, charming, and friendly. They migrate to the warm spring fed waters around Crystal Rivers during the winter months. And that is exactly where we are headed, to the only place in the United States where it is legal to swim with manatees!
We will arrive King's Bay and prepare for our exciting manatee encounter. The area's many guides are trained to make the encounter fun and educational for visitors while treating this threatened species with care and respect. We will start with a manatee awareness program to learn about the habitat, behavior, and anatomy of manatees, and interesting facts about how a salt-water mammal can survive in the fresh water surrounding the springs! We will also learn about what we can and cannot do and the laws that protect these gentle giants. And of course, we will be instructed on how to use our snorkel equipment.
All of our water adventures with the manatee will include being outfitted with a wetsuit (provided for our travelers. They have a huge range of sizes – infant to xxxxxxxxxxl). You will have already chosen your family's mode of transportation at registration on how you will reach your spot in King's Bay, so we will divide up into groups and head out on the water. Once we arrive at our various watery destinations in King's Bay, we will all be provided with noodles to float on and snorkel equipment (if you choose to use it). The manatees, just like us, are susceptible to cold and hypothermia and cannot survive for extended periods when water temperatures fall below 68 degrees Fahrenheit. At the source of these beautiful springs the water is a constant 72 degrees Fahrenheit providing manatees with a warm water refuge from the cold Gulf waters. While we snorkel, manatees may approach, and even roll over for a favorite belly rub. Swimming with manatees is such an incredible opportunity to directly interact with and observe these gentle giants.
Crystal River and King's Bay Natural Springs
Crystal River is the Manatee Capital of the World and is home to the only National Wildlife Refuge in the United States specifically created to protect habitats for Florida's beloved official marine animal. Crystal River/Kings Bay is the second largest springs group in Florida, with more than 70 springs scattered within the 600-acre bay. The springs are the headwaters of Crystal River, which is a short, tidal river that flows seven miles from the headsprings to where it meets the Gulf of Mexico at Crystal Bay in Citrus County, Florida.
The Crystal River/Kings Bay springshed, which contributes groundwater to Crystal River/Kings Bay Springs, is approximately 250 square miles of urbanized and agricultural lands, forested uplands and wetlands. This springshed covers much of Citrus County. The springs discharge 30 million gallons of water daily and that water is consistently 72 degrees. So when the Gulf of Mexico temperatures drop, the manatee head north into the springs in search of warmth and food. Crystal Springs is also the only legal place to swim with manatees in the United States. That is why our trip is scheduled for this time of year and here… so we can see as many manatee as possible! Three Sisters Spring is one of the most beautiful natural springs in Florida. It's also happens to be one of the best places to see wild manatees. Three Sisters Spring is an important warm-water spring refuge for manatees during cold weather. The constant flow of warm spring water keeps manatees safe from cold water temperatures, which can cause cold stress, injury or even death.
The springs are part of the Crystal River watershed, and greater King's Bay. There are more than 70 springs in the Crystal River area, and many hundreds of springs in Kings Bay. Citrus County, where we find Crystal River, is the only place in the United States where it's legal for humans to swim with manatees. There are more than 20 spring vents in the Crystal River Spring Group. We will offer many ways to interact with the manatee at different locations around the Crystal River area. You can:
Snorkel
Swim
Float on a Noodle
Kayak
Paddle Board
Pontoon Boats
Walking Tours
Underwater Observation "Fishbowl"
Crystal River Archaeological State Park
The park contains a six-mound complex, occupied from the Deptford period through Santa Rosa-Swift Creek culture and up to the Late Fort Walton period. This timespan makes it one of the longest continually occupied sites in Florida, believed to have been occupied for 1,600 years. We will be given a guided tour to learn about the Native Americans who lived in the Crystal River area and the ceremonial, burial and midden mounds they built. The grounds are lovely, and along with the variety of oak, sabal palm, cedar, magnolia and other Florida native trees, you will see many birds and butterflies throughout the year.
We will visit the museum to view a diorama that dominates the interior of the museum. It depicts a scale model of the site as it may have looked centuries before its abandonment. We will also view the exhibits that explain the history of the coastal dwellers who used the area in ancient times. Artifacts from pottery to projectile points found at the nearby archaeological site and view timelines that provide comparisons with historical events occurring in other parts of the world during similar time periods.
Ellie Schiller Homosassa Springs Wildlife Refuge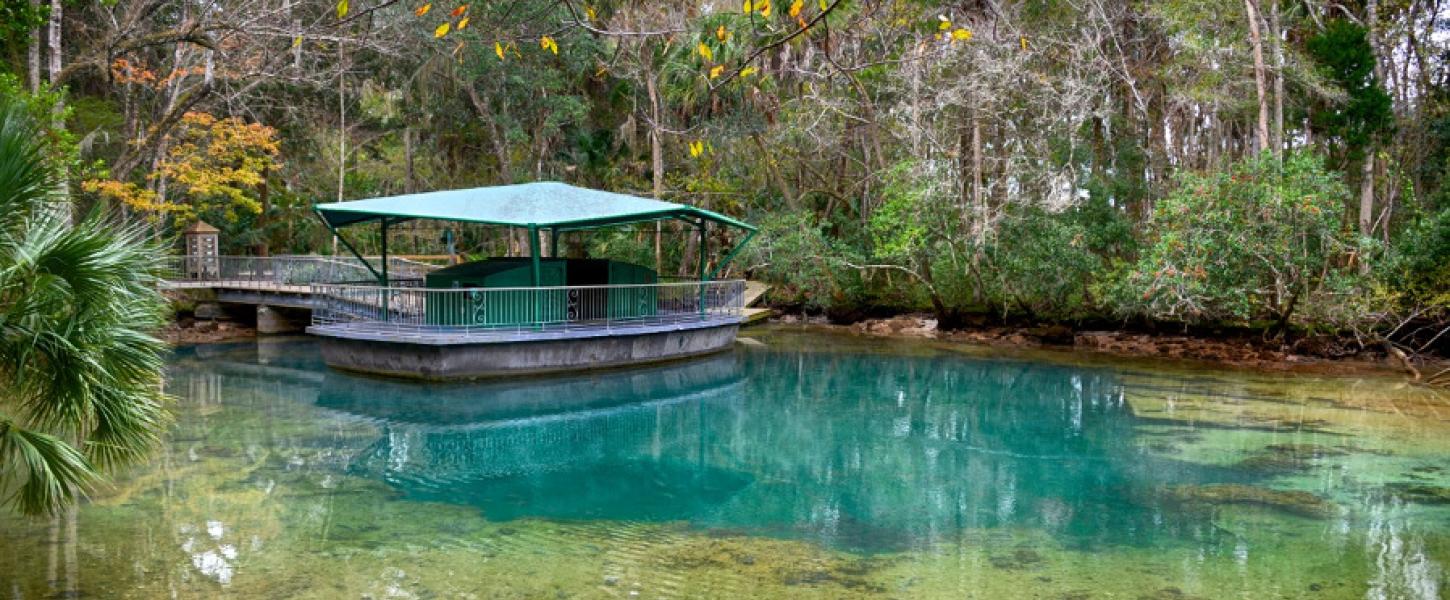 On a 1924 visit, a visitor disclaimed it "the most beautiful river and springs in the world." In this regard, Homosassa Springs hasn't changed much.
Ellie Schiller Homosassa Springs Wildlife State Park includes the one mile paved elevated boardwalk and paved trails for wildlife viewing. It is both wheelchairs and stroller accessible. The boardwalk allows an elevated view into the natural habitats and provides rain shelters along the way. Unable to survive in the wild for various reasons, the park's captive wildlife are ambassadors for their species, promoting conservation through education. The park  features a variety of captive animals such as alligators, black bears, red wolf, Key deer, flamingos, whooping cranes and the oldest hippopotamus in captivity. Each with a unique life story, all of the animal inhabitants are here for the same reason: They are unable to survive in the wild on their own. Lu, a hippopotamus, was one of the Ivan Tors animals and still resides at the park after being declared an honorary citizen of the state of Florida by then Governor Lawton Chiles.
The Fish Bowl Underwater Observatory floats in the main spring and allows an up-close view of the spring and the fish and manatees. An astounding number of fresh and saltwater fish still congregate in the natural spring bowl — large jacks, snapper, snook and others. Gaze down into the depths of the first-magnitude spring and perhaps catch a glimpse of fish and manatees in their natural habitat.
Withlacoochee River Air Boat Tour
A picture is worth a thousand words, so a video is worth a million right? We will take a thrilling ride down the Withlacoochee River on an airboat!! We will be given a tour of the unspoiled wilderness. The Withlacoochee River is very unusual because it flows NORTH to the Gulf of Mexico. It is over 150 miles long and much of it flows through the Withlacoochee State Forest. An airboat ride is the best way to see Florida's wildlife in their own unspoiled, natural paradise. Surrounded by lush cypress, gum and maple trees, the river twists and turns through gorgeous swampland, and breathtaking scenery, leaving you with a true appreciation for nature and all its brilliance. The River is just bursting with wildlife of all types. Everything from owls to eagles to deer. From alligators, to turkeys, to bear. With every trip, comes the opportunity, to see something exciting and different!
And if we don't get the luxury of seeing a gator while out on the airboat, we will have the opportunity to visit Bubba, their 14 foot gator and to hold and take pictures with baby gators!
To register, keep scrolling until you see the "Ready to Register?" section below.
When: February 27 – March 2, 2022 (4 days / 3 nights)
Where: Crystal River, FL
Payments: Please see the information below for pricing and payment information. Each family will need to pay a non-refundable registration fee of $250 at time of registration and will need to pay the balance by January 31st.
The registration fee of $250 per family is due upon registration. Because we can only accommodate a limited number of families on this trip, you'll want to sign up and pay your registration fee to hold your spot as soon as possible. Also, please note teens are counted as adults for this trip, so you will see 2 adults without children (when that is one adult and one teen).
Accommodations
Best Western Crystal River Resort
Double Rooms.
Meals
All meals are included in the Activity Fee. Included meals are listed below.
breakfast every morning (Monday, Tuesday, and Wednesday morning) Continental at hotel
lunch everyday (Monday and Tuesday)
dinner every evening (Sunday, Monday, and Tuesday evening)
Payments, Cancellations, and Refund Policies
Your non-refundable registration fee of $250 is due upon registration. We cannot make any changes after January 31st. Note, we will need at least 14 families to register to be able to confirm this trip. Also, we will have to place a cap on this trip due our space limitations in Crystal River. We encourage you to check into travel insurance. Click the image below to get your customized quote online.
Add-on Events:
We do not have any add-on events at this point. If we do add any, we will announce them in the group for you to register for them. Our trip (except for add-ons) officially ends Wednesday before lunch.
Ready to Register?
Once you have registered and paid your registration fee, you will be added to a private Facebook group that is only for those adults who will travel to Crystal Springs, FL, with us. (We create a group like this for each of our HEART trips.) This allows those who will be attending to start getting to know each other. It also give us a place to share important information with those who will attend. (IMPORTANT NOTE: It is required that you – or at least one adult who is attending the trip and who is doing the planning for your family – join this group since it is the way we communicate important information and details about the trip with the families who attend. If you don't have a Facebook account, you will need to create one to use until the conclusion of the trip.)
We've seen many life-long friendships begin on our trips, and we expect the same thing to happen in Florida! That is one of the greatest missions of these HEART trips–building community for families living the home education lifestyle. We can't wait to meet you!! ♥ ♥ ♥
IMPORTANT NOTES ABOUT YOUR REGISTRATION FORM:
Once you've filled out the form below, this page will reload. PLEASE be sure to scroll back down to the bottom of the page to be sure your form was correctly filled out and accepted. If any information was missing, you'll see that space highlighted in red and will need to add the information and submit the form again.
Once you've submitted the form and it has been accepted, you will see a message (when you scroll back down to the bottom of the page again) that says "Your information was submitted. Thanks for registering. Be on the lookout for an email."
Your next step will be to check your email to be sure you received the confirmation email. The confirmation email will have the information you submitted along with your total amount due.
In a day or two, you will receive a PayPal invoice so you can pay your $250 registration fee. (We have to send these out ourselves since they are not automatically generated.) Please pay this invoice right away in order to secure you spot on our trip.
Once your registration fee is paid, Trish and Wendy will send you Facebook friend requests and will add you to the private Facebook group just for our Crystal River HEART Trip attendees. This private group is where we make plans, share important information, and get to know each other, so it is required that you (or at least one adult who is attending the trip and who is doing the planning for your family) join this group! Otherwise, you will miss important information. If you don't have a Facebook account, you will need to create one. You can, of course, delete your account after the trip if you like.
If you have any questions, please email us, and we will be glad to help!! Be sure to put "Crystal River Questions" in your subject line.
We look forward to seeing you in Crystal River!
Are you ready to register?
NOTE: It is possible (though unlikely) that our plans will change or that a destination we plan to visit won't be available while we're there due to circumstances beyond our control. If this happens, we will adjust our schedule as necessary and have a great time traveling and learning together at a different location.