We are excited to announce our new Geology Camp and Cave Crawl!
We're going back to Kentucky with an all-new Geology Camp and Cave Crawl!
Every year we have repeat travelers (We are SO thankful for all of you!!), but as we continue to provide fun and educational travel for homeschool families, we are growing and have lots of new families too. It's been a few years since we've been to Kentucky, so we're going back. This time we'll be doing an all-new Geology Camp and Cave Crawl!
There will be a few super fun repeats from 2019, but don't worry! Even if you traveled with us to Kentucky in 2019, you'll love this trip! (After all, it's almost like a spiral curriculum that repeats every few years. As your children grow and learn, they retain more and new information.)
As always, we will do lots (and lots!) of fun (and secretly educational) activities with other homeschooling families of all ages from all over the United States (and sometimes other countries too). We will also have a some time to hang out and relax with each other around bonfires and games.
Our Geology Camp and Cave Crawl will be in Cave City, Kentucky from April 16-20, 2023. (These dates do not include any add-ons. While we're there, we'll explore the World's Longest Cave System. The Mammoth Cave system is one of UNESCO's World Heritage Sites and part of their Man and the Biosphere (MAB) Program.
Be sure to mark the dates now! And please note that we must pay the attractions and the Camp/RV Park by the middle of February, so final payments will be due no later than February 15, 2023.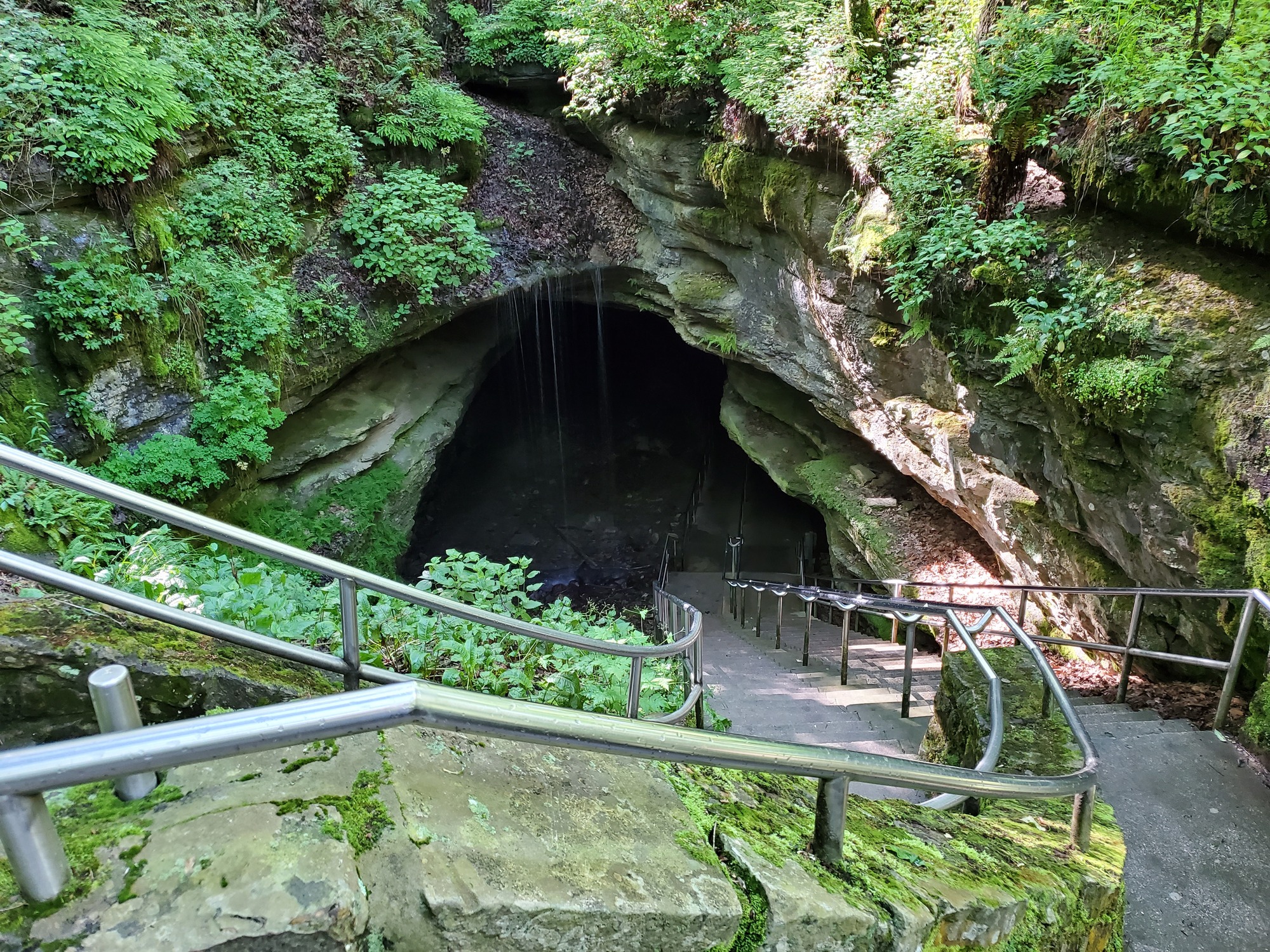 What: Geology Camp and Cave Crawl Homeschool Road Trip!
When: April 16-20th, 2023
Where: Cave City, KY
Registration Fee: $250 per family (non-refundable)
We know that many homeschool families (and families in general right now) are having to watch every penny you spend. That's why we're working extra hard to make this trip affordable! We want every homeschool family to have the opportunity to join us for one of our Homeschool Enrichment Adventure Road Trips (H.E.A.R.T.) trips!
We think you'll agree that this 5-day, 4-night trip is packed with fun, educational, and affordable activities you won't want to miss! And all you have to do is get from your home to the location! Once you arrive at Cave City, everything is planned for you!
NOTE: Part of making the trip affordable is by allowing you to make some of your own meals in your cabin or RV (See lodging information below for info about cabins and RV hook-ups.). A few meals will be provided as we are out and about. Other meals, though, will be provided by you for your own family. You may want to plan for some slow cooker meals or quick-and-easy meals to save time and effort.
What will we do on our Homeschool Road Trip?
Of course, we will explore lots of caves!
Mammoth Cave
Mammoth Cave National Park was established in 1941. It is one of the world's longest-known cave systems (which is how it earned the name Mammoth Cave) with more than 400 miles of it having been explored.
The park was established in 1941 to protect this complex and beautiful cave system as well as the beautiful rolling hills found above it. This cave system has seen people from Native Americans to early pioneers and from enslaved guides to well-known explorers, and we're going to have the opportunity to learn about it and explore it together!
Hidden River Cave
This cave offers something very unique! We will walk on the world's longest underground swinging bridge! Go beyond your previous idea of what a cave can be on this tour. We will see how Hidden River Cave ties into the story of Horse Cave and the Caveland area. We'll see wildlife, historic equipment, and natural features that we won't see in any other cave on this trip.
Our experiences at Hidden River Cave will be lots of fun, but we will get dirty! Be prepared to have lots of fun, and be sure to bring a change of clothes! (As those of you who've gone on Homeschool Road Trips with us already know, we will share a packing list with tips and reminders before the trip, so don't worry, we will let you know everything you need to bring!)
Geology Camp and Our Educational Guide at Hidden River Cave
We are extremely excited to be able to offer something special at Hidden River Cave! We will have Annie Holt with us to make this experience not only educational but also lots of fun!
Annie Holt is a Geologist and the Education Coordinator at Hidden River Cave. Annie grew up in the area and received her degree in geology from Murray State University. During her college years, she spent her time underground as a Park Ranger at Mammoth Cave National Park.
After graduation, Annie became the Assistant Director at the Center for Cave and Karst Studies at Western Kentucky University where she headed the Karst Field Studies Programs and led the Geophysical Investigative Research division of the center for 10 years. However, missing the 'Ranger' life led her back to caves.
At Hidden River, she is a Certified Interpretive Guide, a certified Kentucky State Professional Environmental Educator, an Educator for Project WET (and all its subprograms), Project WILD and Project Wild Aquatic, Project Underground, Project Learning Tree and its Secondary Education Modules, Flying Wild, and Project Archaeology national curriculums.
Annie lives in Bowling Green with her husband Kevin and their son Max, 2 dogs, 2 cats, 1 snake, 1 bearded dragon, 1 tortoise, and 1 fish.
We are sure you will love Annie! She is knowledgeable and fun, and she loves sharing information in a hands-on way with kids and adults too. She will be our guide for the Geology Camp and other points of interest on our trip.
Our Geology Camp education will include:
Cave Creatures. Adaptations of cave organisms teach children about how the environment can alter the behavior, physiology, and chemical response of organisms that visit, live in, and depend on the cave environment. We will learn how to identify these adaptations, and then teams of students will work together to determine in what category the cave organisms fit based on their levels of adaptations.
Earth Ingredients. We will learn how rocks indicate landscape changes over time, how minerals are the building blocks of rocks, and the 3 types of rock. After learning about physical and chemical properties, we will use hands-on methods and complete 3 tests to determine the names of 3 unknown minerals.
Dirty Water. In this program, we will compare different scenarios to determine the best method of preventing soil erosion into the water system. We will do this by measuring the percent of water absorbed and the conductivity and total dissolved solids of the outflow.
Water Quality. With the use of a simulated community, we will learn of sources of pollution and possible solutions. We will then examine water quality by measuring indicators such as temperature, dissolved oxygen, total dissolved solids, and conductivity while comparing results from 3 different water sources. We will also learn about how macroinvertabrates can act as indicators. Through a role-playing game, we will experience how water quality changes can affect the biodiversity of a healthy stream.
ECO Engineers. To learn how fragile the environment in a karst area is, we will learn to recognize various sources of karst hazards. We will learn about investigation techniques (including resulting data) and possible solutions. Teams of students will then be given an industrial site scenario in which they have to recognize karst hazards by interpreting data and determining a solution. After reviewing the costs to implement their solutions, students will compare whose scenario is successful and cost-efficient.
Where does all the pollution go? We all live in a watershed. All watersheds are exposed to pollution. In this program, students learn of nonpoint pollution sources and possible solutions to these problems. Afterward, we will learn about the extent pollution can have on nearby waters by delineating watersheds.
Guided Tour. We will go underground in Hidden River Cave! We'll have a knowledgeable guide who will lead us on an hour-long tour. We'll explore the cave and learn about the history of Horse Cave, groundwater quality, geology, ecology, and the amazing story of the cave's rescue!
Immersion Off-Trail. This immersive experience will take us off the trail system and introduce us to the wild side of the cave! With helmets and headlamps, we will crawl and climb as we explore the geology and ecology up close.
American Cave Museum

This two-level museum features, of course, caves! It is a state-of-the-art showcase of underground natural history–a little bit of Smithsonian in rural Kentucky! Here, we'll be able to get an in-depth look at even more history and science related to America's natural caverns through educational and informative exhibits. It's history, science, and fun all in one location!
At the American Cave Museum, we will read and learn more about:
Karst Geology: Discover the unique issues and formations only found in karst formations, as well as important links to our past.
Groundwater Quality: Learn about the issues affecting our most important resource and what we can do to protect it.
History of Caving: Go beyond modern headlamps and rope. Get acquainted with Caveland icons, such as Floyd Collins, and hear the story of our Cave Wars.
Archaeology: Find out about the vast human history that can be discovered in caves.
Cave Wildlife: Explore the diversity of life inside caves and find out about the unique animals that only inhabit the subterranean world.
Cave Formation: Did you know that caves and the cavities your dentist fights against have a lot in common?
Diamond Caverns
In Diamond Caverns, we'll see some of the most beautiful, intricate drapery deposits in Kentucky that line the halls in cascades of naturally colorful calcite. This cave has been altered very little during its 140-year history of being open to visitors, so we'll see its natural beauty and enjoy its comfortable temperatures together.
Lost River Cave
Even More Geology Camp
Cave Boat Tour
Lost River Cave offers Kentucky's only underground boat tour, two miles of nature trails, and 68 acres of natural bliss in the middle of metropolitan Bowling Green. Our Cave Boat Tour will begin with a walk in the valley. There our guide will share the tale of the blue hole and disappearing Civil War soldiers. Then we'll board the boat at the cave entrance. (Be sure to duck your head until the passage opens into the cathedral-like cavern!)
Geology Rocks
We will apply information we learn to fun hands-on experiments with rocks! At the end of the program, here's what we will have learned and will be able to do:
We'll know how to name and identify three main rock types.
We will be able to describe the ways rocks and minerals differ.
We will have investigated rock and mineral specimens.
We will be able to explain the connections between the different rock types.
Sinking Into Karst Study
This program is designed to be a "talk and hike." Our goal will be to encourage our students (and ourselves–the adults) to observe the areas around us and ask questions. By the end of this part of our adventure, we will have a better understanding of:
What Karst is
How Karst features form
How to recognize Karst features we see in our daily lives
Learn Geocaching
Bring your smartphone and use simple instructions from the Visitors Center to turn your phone into a GPS! If you happen to have your own GPS, you can grab a copy of the coordinates, plug them in, and go hunting.
Bluehole
Geology, groundwater, history, ecology, and chemistry. Nothing pulls these subjects together like a karst bluehole. Lost River Cave's four blueholes have been, and continue to be, the scene of amazing science and human interaction. While on the tour, we'll visit a bluehole and learn more about it.
Art Souvenir
We love making our own souvenirs instead of just purchasing something off the shelf. We have been incorporating paint parties into our trips at every location we can and this time we found a local artist to host our party!
Community
Each evening, we will spend time hanging out relaxing and enjoying time with our new friends.
Sunday afternoon and evening we will be at the welcome party enjoying food, fun and games at Jellystone. Everything from putt-putt golf to Hey Hey Hey rides will be available.
Monday night, we will be playing board games and eating smores at a bonfire! They also have a heated pool on property, so be sure to bring your swimsuits!
Tuesday evening we will be bowling, skating and playing Laser tag together!!
Wednesday evening we will be eating pizza and painting our own souvenir of our Geology Camp experience.
Optional Add-On Experience
Add-on dates: April 20-22, 2023
Price per attendee: $225
Additional charges for accommodations: Two nights at going rate
For our add-on for this trip, we will focus on local Kentucky history and will stay above ground for some paddling and a little bit of adventure! If your family doesn't want to participate in these add-ons, that's ok too. (But if you do, please note that these will be right after the core trip (Thursday afternoon – Saturday morning.) This add-on is limited to 100 people.
Abraham Lincoln Memorial and Boyhood Home
For over a century, people from around the world have come to rural Central Kentucky to honor the humble beginnings of our 16th president, Abraham Lincoln. His early life on Kentucky's frontier shaped his character and prepared him to lead the nation through the Civil War. We will visit our country's first memorial to Lincoln, built with donations from young and old, and the site of his childhood home.
Kentucky Rail Museum, Train Ride, and Dinner in a Dining Car
We will take a nostalgic trip aboard L&N's Historic Lebanon Branch on a 17-mile trip on historic tracks through the Rolling Fork River Valley. These tracks have seen Civil War attacks, carried machines and soldiers during WWII, and have helped the citizens of Kentucky in many different ways.
This experience will provide a bit of history and culture preserved by the Kentucky Railway Museum in New Haven, Kentucky. We will have dinner in the dining car while we enjoy the views of the valley.
Zip Lines
We will experience Kentucky's first zipline canopy tour. The eco-friendly tours are sure to get your heart pumping as you soar up to speeds of 40 miles per hour. Zipline canopy sites are located on the ridges overlooking the gorgeous mountains in and around Mammoth Cave National Park. Enjoy zipping through at high speeds with plenty of panoramic viewing opportunities.
Children between 35 lbs and 85 lbs.
They have a special course with shorter ziplines for children between 35 lbs and 85 lbs. The children can use the shorter ziplines for the first two line courses.
Paddling the Green River
This canoe trip is perfect for beginners and young children. It is a 3-4 hour trip (including shuttle). We will paddle through some of the most beautiful scenery… limestone bluffs and a small cave. There are no rapids on this trip. (It is categorized as a class 1 trip.) We will be downstream from Green River Dam.
The Green River is Kentucky's crown jewel of river systems and a national treasure of biodiversity. At 384 miles, it is one of Kentucky's largest, longest, and most navigable rivers. It harbors one of the most diverse assemblages of fish and freshwater mussels in the United States.
The total price for the add-on will need to include two additional nights of your choice of accommodations (the one you chose for the primary trip) plus $225 per person.
Accommodations: Jellystone Park Mammoth Cave
If you have never stayed at a Jellystone, you are in for a treat! Yogi Bear's Jellystone Park Camp-Resorts are family campgrounds that really focus on bringing so many activities to make it a fun experience and make life-long memories!
We will be staying at Jellystone Park Mammoth Cave during our trip. This will not only allow lots of time to visit and get to know other homeschooling families, but it will also help you save money! All of the activities listed below come with your stay at the park. And our cabins all come with kitchens (either full kitchens or kitchenettes–depending on which type of cabin you choose), so we'll save some money on meals!
What will we do at the park?
If you have not been on one of our Homeschool Road Trips, we spend a great deal of time focusing on relationships. We want our families to become lifelong friends and our children to look forward to seeing each other on the next Road Trip. We believe we have succeeded in creating this atmosphere. But don't take our word for it… click here to read the reviews on our Facebook Page.
Here are some of the outdoor activities available to us at Jellystone and many we will be doing during our welcome party:
volleyball

corn hole

kickball

hey-hey-hey rides

pedal cart track

jumping pillows

mini golf

heated activity pool and splash pad

foamball
playgrounds
fishing pond
arcade
Accommodation Details
There are 34 cabins that have either a mini or full kitchen. This is important because we are trying to keep the costs down by not providing every meal! So we give some of that food budget back to you to manage. There will be food available to purchase onsite in the Jellystone Ranger Station that includes Nathan's Famous Hot Dogs, Hunt Brothers Pizza, ice cream, and more.
For our families with RVs, we have six slots available to us. So register soon, they will fill up!
Towels and Linens
Please keep in mind that towels and linens are not provided by the camp!
You have the option of bringing sleeping bags instead of bed linens if you'd like. If you don't have sleeping bags, though, or if you just prefer sheets on your bed, you can bring bed sheets from home. Once you reserve your cabin, you'll know what size bed sheets you'll need to bring.
You'll also need to bring your own towels and washcloths. (Keep in mind that you'll need kitchen towels and washcloths too!)
My (Wendy's) family has these Turkish towels that we use for camping, and we love them! They dry fast so they stay fresh smelling even if we use them for several days. We couldn't find small ones to use for washcloths, so we took one towel, cut it into small washcloth-sized pieces, and stitched around the edges (to prevent them from unraveling) to use as washcloths and cleaning cloths for the kitchen.
If you would like for Jellystone to provide linens, it is a one time charge of $30. We will ask on the registration form if you need linens to be provided.
Geology Camp and Cave Crawl Price
Your family's actual cost will vary based on what options you choose for your accommodations and if you choose to do the optional add-on.
Accommodations
We will update this spreadsheet to reflect which cabins or RV spots are available. To get your choice of cabins (or RV spot), be sure to register soon! Here is the list of what is available and below are detailed descriptions of each cabin type. We have 15 reservations in less than 24 hours. Here are the cabins we have left.
Efficiency Cabins
175 square foot cabin
sleeps up to 4 (best suited for 2 adults & 1-2 small children)

1 double bed, 1 upper twin bunk, 1 futon
small bathroom with shower
kitchenette with pots, pans, dishes, and utensils provided
coffee pot, microwave, toaster, stove top, refrigerator (dorm size)
satellite TV access with flat screen (not equipped for DVDs and games)
central HVAC or window unit A/C
chairs on porch
fire ring (Please do NOT move the fire ring.)
charcoal grill
Note: These cabins are pet-friendly – a $50 nonrefundable pet fee is required. A maximum of two pets are allowed.
Bath and bed linens not provided, unless you choose to the linens for $30 additional. (Pillows are included.)
Poolside Efficiency Cabins
175 square foot cabin
sleeps up to 4 (best suited for 2 adults & 1-2 small children)
1 double bed, 1 upper twin bunk, 1 futon
small bathroom with shower
kitchenette with pots, pans, dishes, and utensils provided, coffee pot, microwave, toaster, stove top, refrigerator (dorm size)
satellite TV access with flat screen (not equipped for DVDs and games)
central HVAC or window unit A/C
patio overlooking the pond with outdoor table and chairs
fire ring (Please do NOT move the fire ring.)
charcoal grill
bath and bed linens not provided, unless you choose to the linens for $30 additional (Pillows are included.)
Note: These cabins are pet-friendly – a $50 nonrefundable pet fee is required. A maximum of two pets are allowed.
Lincoln's Logs
290 square foot cabin
sleeps up to 8 (best suited for 2-4 adults & 1-4 children)
1 double size bed with an upper twin bunk bed in separate bedroom, 1 double size bed with upper twin bunk bed in the main room, 1 futon in the main room
satellite TV access with flat screen (not equipped for DVDs and games)
bathroom with standing shower
kitchenette with pots, pans, dishes, and utensils provided, coffee pot, microwave, toaster, stove top, refrigerator (dorm size)
window A/C unit
table and chairs for inside dining
nice covered porch with outdoor table and chairs
fire ring and picnic table (Please do NOT move fire rings.)
charcoal grill
pet-friendly cabins ($50 non-refundable pet fee. Only 2 pets per cabin.)
linens not provided, unless you choose to the linens for $30 additional (Pillows are included.)
Cumberland Cabins
400 square foot cabin (sleeps 6-8; best suited for 2-4 adults & 1-4 children)
cabins 39 – 47 have a regular porch and cabins 48 – 54 have screened-in porches
1 queen size log bed in a private bedroom, sleeping loft for children (2-double size mattresses) — step ladder to loft, 1 queen size sleeper sofa in living area
bathroom with shower
cozy electric fireplace
FREE wireless internet–for web browsing only, satellite TV access with flat screen TV (not equipped for DVDs and games)
central HVAC
kitchen with pots, pans, dishes, and utensils provided, coffee pot, microwave, toaster, full size stove, refrigerator – full size, bar with 3 stools
nice covered porch with rocking chairs
fire ring and picnic table (Please do NOT move fire ring.)
charcoal grill
linens not provided, unless you choose to the linens for $30 additional (Pillows are included.)
no pets allowed
Independence Cabins
400 square foot cabin (sleeps up to 4; best suited for 4 adults & 2 children.)
1 queen size bed in private bedroom, 1 futon in main room, 1 sleeping loft
satellite TV access with flat screen (not equipped for DVDs and games)
ADA bathroom with shower, fully wheelchair accessible, except loft
full-size kitchen, pots, pans, dishes, and utensils provided, coffee pot, microwave, toaster, stove top and oven, refrigerator – regular size
screened-in porch and deck with outdoor furniture
FREE wireless internet–for web browsing only
central HVAC
table and chairs for inside dining
fire ring and picnic table (Please do NOT move fire ring.)
charcoal grill
linens not provided, unless you choose to the linens for $30 additional (Pillows are included.)
no pets allowed
Meals
One of the ways we are trying to cut costs on this trip is to not provide every meal. Meals are very expensive when you are using caterers and restaurants for every one. We decided to make it less expensive by having families provide some of their own meals.
Again, these prices don't include all meals. We will provide lunch every day (except Sunday – our day or arrival and Thursday our core trip departure day, and start of add-on), dinner on Sunday (welcome party) and Thursday (pizza). We will not provide breakfast each day and dinner on Monday and Tuesday.
NOTE: For those who go on the trip with us, we'll provide more specifics about area grocery stores as we make plans for the trip.
Activity Fees and Lunches
The trip activity fee is $500 per person. That does not include accommodations nor the non-refundable $250 registration fee. If you plan to stay for the add-on, it is an additional $225 per person plus two additional accommodation nights. Youth under age 5 are free.
To determine the cost for your family:
1. Choose your type of accommodation. Note these are per night prices. Our trip is four nights, so multiply your cost per night by 4.
2. Add up the costs for the activities for your family by age. ($500 x number in your family over five)
3. (Optional) Add-on activity fee PLUS two additional nights for accommodations.
Accommodations x 4 + $500 (trip activity fee) x number in family + $250 (registration fee)
If you are doing the add-on experience, your formula will look like this:
Accommodations x 4 + $500 (trip activity fee) x number in family + $250 registration fee + $225 (optional add-on fee) x number in family over five + add-on accommodations x 2.
Payments, Cancellations, and Refund Policies
Your registration fee of $250 is due upon registration. We will offer a payment plan (divided up by the number of months left) with the total balance being due by February 15th, 2023. We will require you to make monthly installments each month. Registration fees are non-refundable. We cannot make any changes or offer any refunds after February 15th.
Note: We require a minimum of 10 families. Therefore, until we meet this minimum number, this trip will not be considered "confirmed." Should we not reach our minimum number required, we will issue a full refund of all payments. Also, we have a maximum of 40 families, so first come first served. By your registration fee payment, you acknowledge your understanding and agreement of the cancellation and refund policy.
Ready to Register?
Please be aware that specific details and activities may need to be adjusted during our trip due to weather or other unforeseen circumstances. We do not anticipate having to make any changes, however, we have learned that travelers must be flexible.
We've seen many life-long friendships begin on our trips, and we expect the same thing to happen in Kentucky! That is one of the greatest missions of these HEART trips–building community for families living the home education lifestyle. We can't wait to meet you!! ♥ ♥ ♥
IMPORTANT NOTES ABOUT YOUR REGISTRATION FORM:
Once you've filled out the form below, this page will reload. PLEASE be sure to scroll back down to the bottom of the page to be sure your form was correctly filled out and accepted. If any information was missing, you'll see that space highlighted in red and will need to add the information and submit the form again.
Once you've submitted the form and it has been accepted, you will see a message (when you scroll back down to the bottom of the page again) that says "Your information was submitted. Thanks for registering. Be on the lookout for an email."
Your next step will be to check your email to be sure you received the confirmation email. The confirmation email will have the information you submitted along with your total amount due.
In a day or two, you will receive an invoice so you can pay your $250 registration fee. (We have to send these out ourselves since they are not automatically generated.) Please pay this invoice right away in order to secure your spot on our trip. Note this is a non-refundable fee that is not deducted from the cost of your trip. This is what we charge to organize these trips.
Once your registration fee is paid, Trish and Wendy will send you Facebook friend requests and will add you to the private Facebook group just for our Geology Camp attendees. This private group is where we make plans, share important information, and get to know each other, so it is required that you (or at least one adult who is attending the trip and who is doing the planning for your family) join this group! Otherwise, you will miss important information. If you don't have a Facebook account, you will need to create one. You can, of course, delete your account after the trip if you like.
Complete this form and we will send you an invoice for your $250 non-refundable registration fee. BE SURE TO SCROLL TO THE BOTTOM OF THE FORM AFTER SUBMITTING TO ENSURE IT WAS ACCEPTED!!! Also, you should receive an email with your responses. If you don't, then the google form was not accepted.
If you have any questions or are having issues with the form, please message us at Homeschool[email protected] and put HEART questions in the subject line.